Instrument Cluster
For over a decade, Valid has worked with industry leaders in the Recreational Vehicle, Transit, Electric Vehicle and Specialty vehicle markets to create unique digital instrument clusters that fit their specific requirements. Our clusters feature intuitive interfaces, customizable graphics, and easy-to-read gauges that integrate seamlessly with other vehicle controls. We work closely with our customers and evolve our product design to keep pace with their changing needs and expectations.
Inspired by luxury automobile displays, the Valid Instrument Cluster is a digital graphics-based alternative to traditional vehicle dashboards.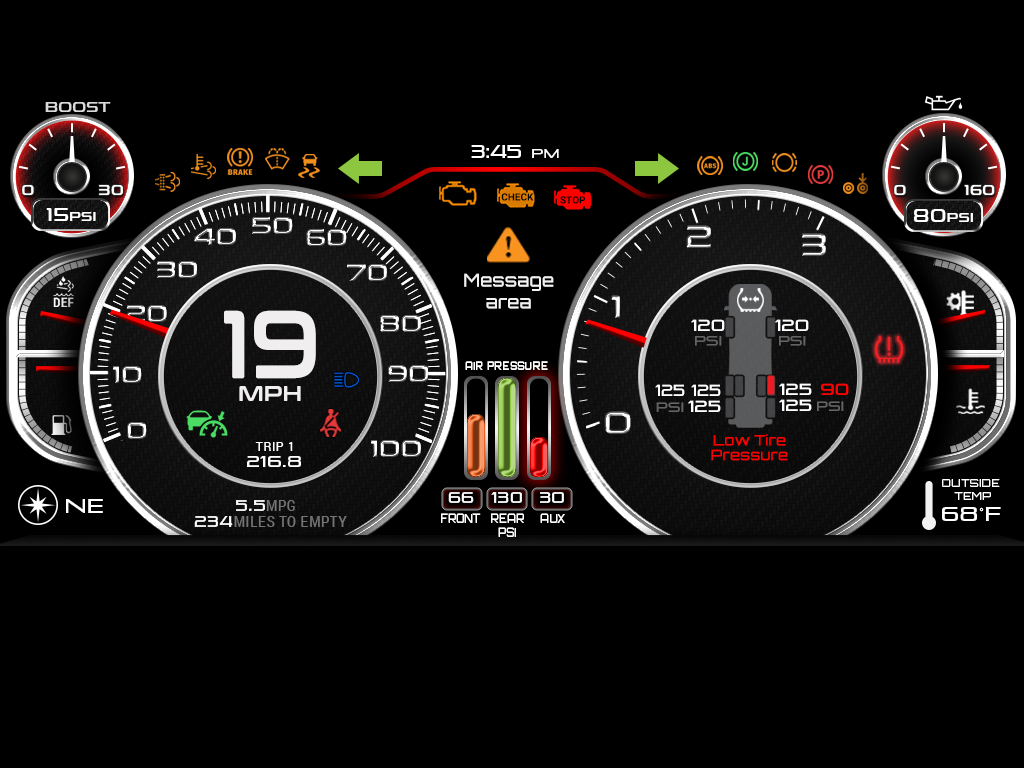 Vehicle Types
RV
Valid's customizable Instrument Cluster combines information from both the vehicle chassis and house systems into one visually appealing, user-friendly interface. While maintaining focus on the road, the driver can safely navigate menu options and monitor vehicle performance and conditions such as transmission, brake system, air system, tire pressure, suspension and leveling, fuel and trip information, on-board diagnostics (OBD), battery voltage, generator/shore power status, camera video (IP) and more.
Transit
Valid's Instrument Cluster features an intuitive interface which ensures the driver can focus on the road while monitoring vehicle performance and status. The cluster has the capability to display both internal and external cameras with a birds eye view feature available. The Instrument Cluster can be integrated with additional features such as Valid's Kneeling System and other vehicle systems, including doors and ramps.
Electric Vehicle
Valid's Instrument Cluster is easily customizable to the needs of the vehicle and drivetrain manufacturer. The display incorporates traditional vehicle gauges along with EV-specific information such as state of charge, range and charge time remaining. The display can also incorporate custom status and diagnostic information unique to the specific electric drivetrain.
Specialty Vehicle
Valid's Instrument Cluster displays customizable information of vehicle performance and condition in a visually-appealing, intuitive interface. Kneeling system status as well as internal, external and bird's eye view cameras can be displayed. Vehicle operators are able to easily navigate the menu while monitoring the vehicle and surrounding environment.
Features
Intuitive, easy-to-read gauges
Completely customizable to your requirements, including size of display
Eliminates the need for additional modules, simplifying wiring in most cases
Powered by the same type of graphics engine used in automotive applications
Display with high native brightness and strengthened anti-glare glass
Seamless integration with other Valid controls and vehicle systems
See Full Specs
"To improve our dash, we were looking for 'What's the next thing? Valid™️ is one of our best and most innovative suppliers in terms of what they provide in engineering support and services. The breadth of what they can do in both their mechanical design and electronics design is very impressive. So we asked them what they could create to help us provide custom solutions for our customers."
James Neatherry, VP Engineering, Newell Coach
See Case Study
Why Choose Valid
We are committed to providing exceptional customer support. We even provide support to our customer's customers for Valid™️ products integrated into vehicles.
Valid™️ works with your team to develop the product specifically for the vehicles you produce.
We provide engineering services and support for the integration so your solution is ready to go.
Contact
Address
Valid Manufacturing Ltd.
5320-B 48th Avenue S.E.
Salmon Arm, B.C. V1E 1X2