Fill out our survey at the end of this article for a chance to win a giveaway prize from Valid™!
You wake up in the morning after an uncomfortable sleep. You're not sure what, but something felt off all night. You decide to get breakfast started, so you grab a couple eggs and set them on the counter, only to have them roll off the counter and fall to the floor. It's then that you realize that your RV is not level. No wonder your sleep was so uncomfortable!
If something like this has happened to you, it's time to think about installing a leveling system in your RV.
A leveling system allows you to level your RV even when parked on an uneven surface. The importance of a leveling system is not just for comfort – it also plays a role in damage prevention for your RV and its contents.
Importance of a Leveling System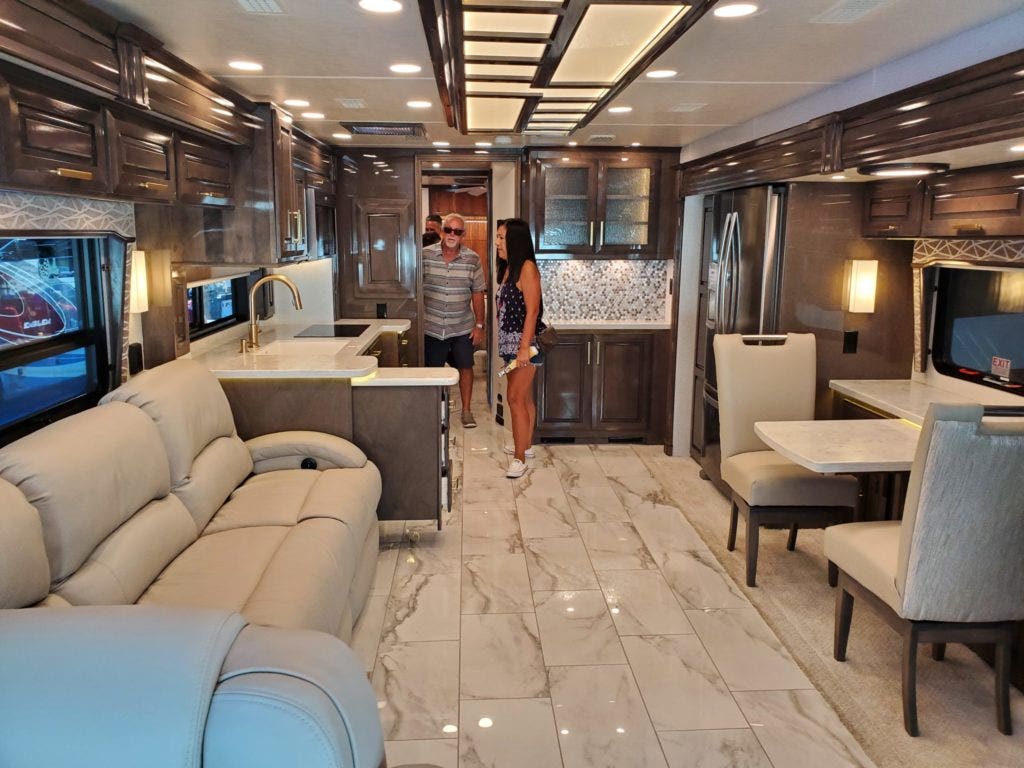 Comfort
Living in an unlevel coach can throw off your equilibrium and can cause you to be more susceptible to trips and falls. It can also be quite frustrating to have your items roll off tables and counters. Sleep comfort is another big issue in an unleveled RV – the last thing you want when camping is a bad night's sleep!
Extend The Life of Your Motorhome
Nothing is safe in an unleveled RV, not even your fridge. Damage to an RV fridge is probably the most common complaint from owners of coaches without leveling systems.
The majority of coach fridges need to be level so that the internal liquid does not pool and /or accumulate in the wrong areas. The inability of the liquid to flow properly interferes with the appliance's ability to operate and can cause an increase in temperature. If you've heard of RVs randomly catching on fire or RV fridges becoming permanently damaged for seemingly no reason, this is most likely the cause.
Without a leveling system, your coach can suffer unnecessary damage to the chassis and undercarriage. In an unleveled RV, stress can be placed on door frames and windows. Even your tires may wear out sooner.
If your coach is equipped with a slide out system, it is imperative that you level your coach before extending the slides. When slide outs are used on an uneven surface for an extended period, incorrect weight distribution can stress the coach frame, causing damage and premature wear and tear, not to mention the cost to you in future repairs.
Installing a leveling system in your RV might be the single element that elevates your camping experience to a 10/10, so what's holding you back from leveling up your camping game?
Maybe you're concerned that a leveling system is complicated to operate. This can be the case with manual leveling systems, which require experience and can be tricky to operate. On the other hand, an automatic leveling system can get the job done in a single step!
Valid's Aftermarket Trueline Leveling System
Valid designed their aftermarket Trueline Leveling System as a superior, retrofittable vehicle-leveling product for owners of luxury RVs. The ValidTM Trueline Leveling System is an industry-proven leveling system that works with the air suspension already installed in your vehicle.
Benefits
By using air-suspension leveling, you are eliminating hydraulics and associated oil leaks. With the Valid Trueline Leveling System installed in your coach, the leveling process is as simple as one step.
When traveling in an RV, frequent stops are a common occurrence, and the thought of spending your time leveling the vehicle at every stop is anything but appealing. With the simple and quick leveling process of the aftermarket Valid Trueline Leveling System, you can spend less time setting up and more time enjoying your RV.
How the Valid Trueline Leveling System Works
Utilizing leading-edge accelerometer technology, the Valid Trueline Leveling System offers a stress-free leveling experience. Accelerometers situated along three separate axes of the vehicle chassis provide data which is used to accurately level the vehicle while simultaneously removing damaging chassis twist. There is no interference between the Valid Trueline Leveling System and your existing jack system. When the coach is in motion, the built-in monitoring functionality automatically calculates and makes adjustments for a smooth, comfortable ride.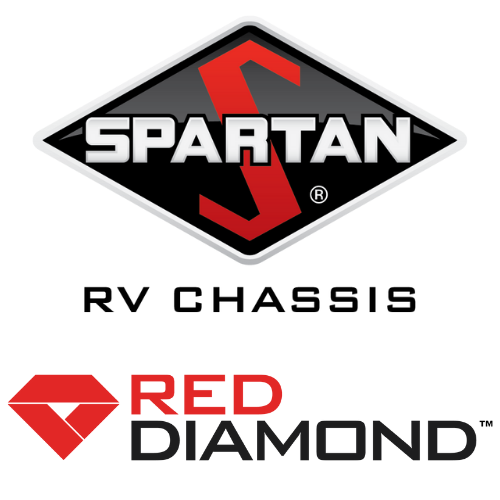 Spartan RV Chassis
To develop the Valid Trueline Leveling System, Valid forged a strategic partnership with Spartan RV Chassis, who have an extensive service network and a strong reputation in the RV industry. The combined expertise of Valid and Spartan RV Chassis has created a best-in-class air-leveling system that is widely available and installed exclusively though Spartan RV Chassis as part of their Red Diamond Series.
If you're ready to upgrade your coach to an automatic air-leveling system, contact Spartan today.
Conclusion
Whether you're a first-time coach owner looking for a leveling system, someone looking to replace their current leveling system or someone who would simply like more information about this product, check out our product brochure here and reach out if you have questions or would like more information.
Don't forget to fill out our survey below for a chance to win a giveaway prize from Valid™!