A great fit
Valid Manufacturing Ltd. has over 30 years of experience in designing and manufacturing innovative solutions, specializing in a variety of expertise including power generation and distribution. In 2017 Valid began working with industry leaders to develop a Power System program that would be customized to the needs of the film industry. Since then, Valid has engineered the Valid Power System (VPS), a successful line of power generation and distribution products that help the film industry power their productions more efficiently while also saving on greenhouse emissions.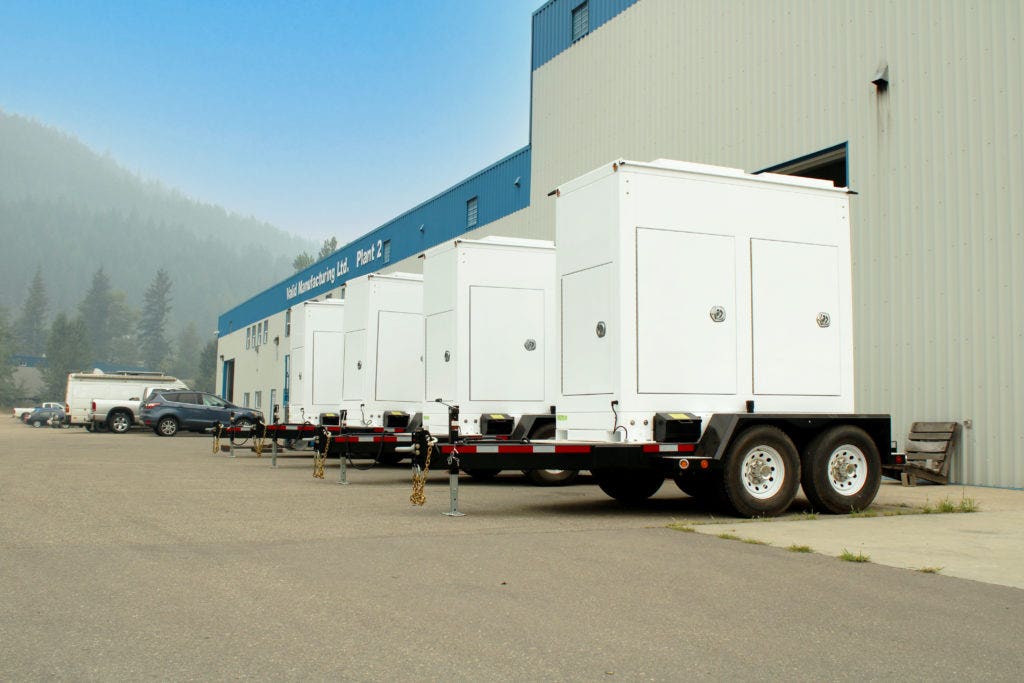 Diesel generators starting the journey
Valid was approached by the film industry to manufacture trailer-mounted diesel-powered generators to meet the demands of the fast pace, diverse world of film. These generators were required to operate in residential locations, so they had to be ultra-quiet. They also had to be portable and durable for off-grid locations.
Valid's mechanical and electrical experts were successfully able to engineer the VPS Studio Generators. Extremely reliable and quiet, these units exceeded the expectations of the industry.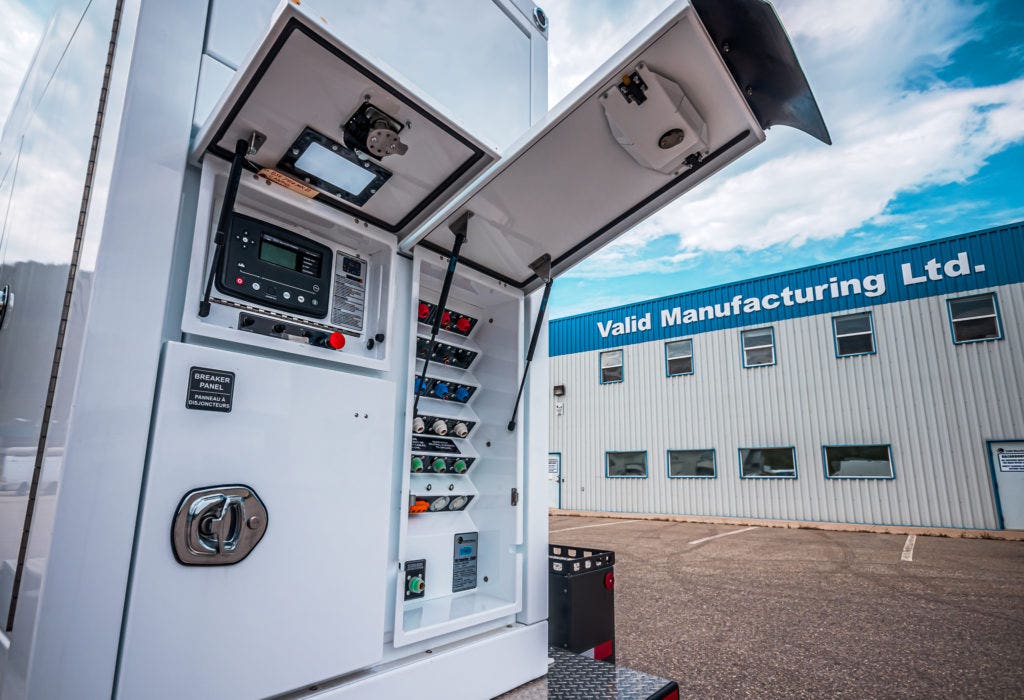 The VPS Studio Generators quickly became popular with the top three film rental companies in Canada. On film sets, diesel generators are a key source of power for locations where grid power isn't available. Production crew members such as gaffers, chief electricians in a motion-picture or television production, can rely on Valid's high-quality VPS Studio Generators to produce the power they need on any location.
Valid's studio generators have been evolving over the years to produce the most efficient products possible and keep pace with government emissions regulations. Valid began with the Tier 3 Generator and now they have begun production of the highly-efficient 800Amp Tier 4 VPS Studio Generator, further reducing waste and emissions in film.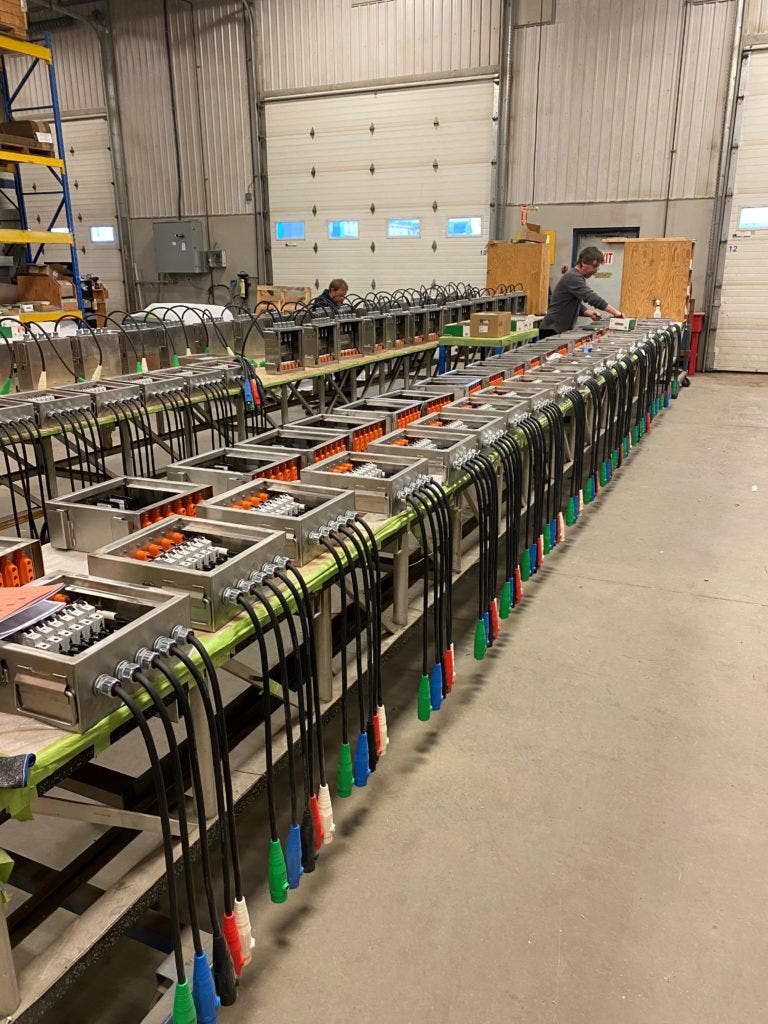 Playing on strengths
Another of Valid's specialties, from their electrical integration sector, is in cam-lock connections and power distribution. Valid's reputation from their VPS Studio Generators naturally lead to a demand from the industry for high-quality distribution boxes. These boxes had to be durable and weatherproof to withstand the rigors of on-set use. Valid now designs a broad line of custom VPS Distribution Units. These units are all built to electrical code, offering peace of mind the end user.
Valid also supports the film industry by working with local municipalities to install cam-lock grid tie-ins throughout various high-impact streets that are filmed on regularly. They have also recently begun manufacturing custom cam-lock grid tie in units for film studios and event venues.
The rise of green power– Pushing battery packs in film
In 2019, Valid recognized an opportunity in the up-and-coming lithium-ion battery technology, and began development of their VPS Battery Pack program to suit diverse needs of the film industry. Recently, the government and film industry have put through initiatives to reduce the environmental impact of production. Battery packs are quickly becoming the viable solution to energy waste and emissions output on film sets, providing emission free portable power in a variety of capacity and output options.
Valid's line of lithium-ion battery packs meet the needs of the industry by offering durable units ranging from 10kWh to 100 kWh, giving gaffers a variety of options to right-size their production. The VPS Battery Packs provide quiet, reliable, portable power for any film location. This battery technology helps the film industry meet their emissions reductions goals and save substantial amounts on fuel and maintenance costs.
How do you measure your footprint on film productions?
According to the Sustainable Production Alliance (SPA), an association of film, TV and streaming companies dedicated to reducing the entertainment industry's environmental impact, "to address any problem, [the film industry] must first measure their impact." Valid has developed a way for the film industry to measure this impact using remote monitoring technology coupled with a user-friendly web interface. Producers and gaffers (lighting technicians) can now make educated decisions to minimize both energy usage and fuel waste using real-time data from Valid's Remote Monitoring System.
Valid initially developed its remote monitoring functionality for their lithium-ion battery packs to have an extra layer of security against battery faults. Remote maintenance of firmware and configuration settings meant that no service technicians were required on site. Perhaps even more usefully, the Remote Monitoring System has proved to be a valuable source of data showing the VPS batteries' performance in real-time and sending out email notifications of alarm conditions of both systems and maintenance reminders for the generators. This technology has also been applied to monitor the Valid Studio Generators, providing the film industry with reliable data on the efficiency of all power system operation.
What to take away from Remote Monitoring data
Data collected from the VPS Remote Monitoring (graph below) showed that typically, for 80% of the runtime of the 1400A generators, the load is 30kW or less. Data further showed that 90% of the time, peak power requirement does not exceed 100 kW. With this data, Valid was able to prove the 1400A generators were grossly underutilized, and that the more efficient, right-sized VPS 800A T4 Studio Generator would reduce energy waste and still be more than enough output to power film productions.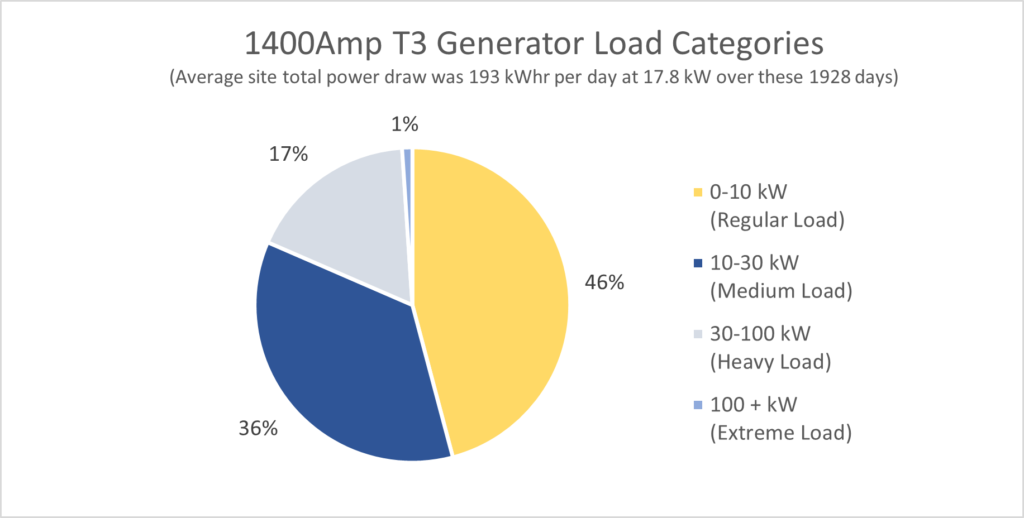 Driving power generation technology even further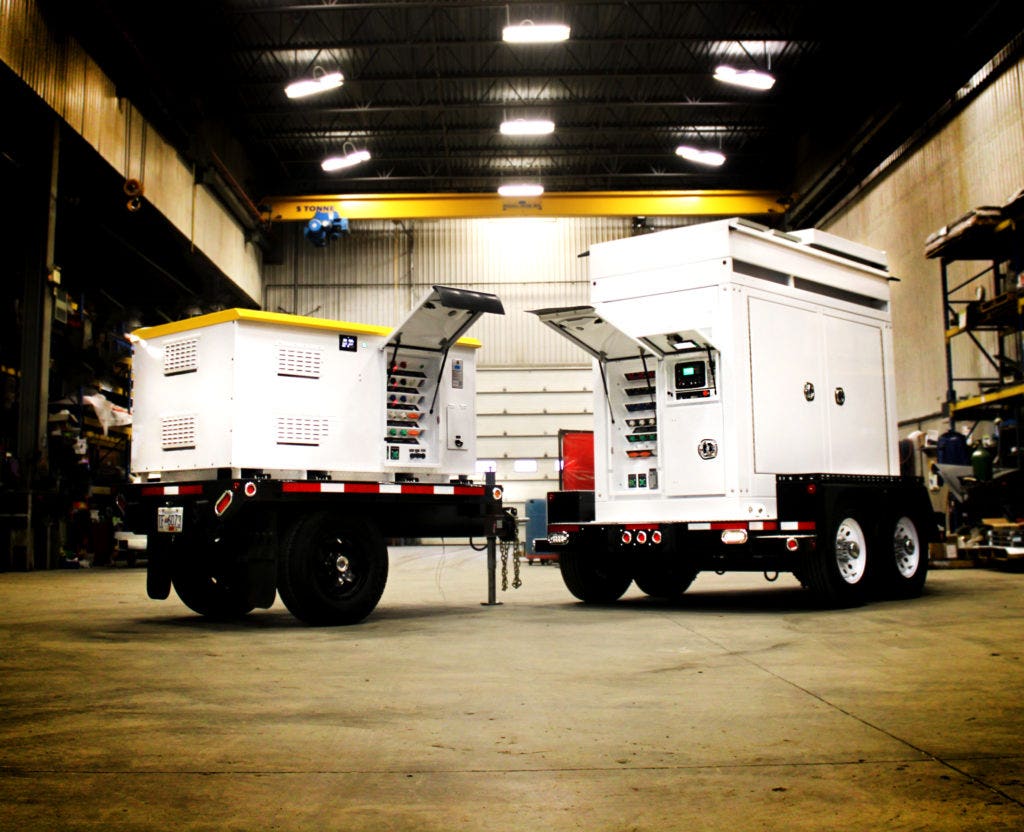 As a result of this data collection, and the push from the industry to continually green their operations, Valid developed a Hybrid Power System that incorporates the 800Amp T4 VPS Studio Generator with a 100kWh battery pack, giving the film industry the best of both diesel and battery power.
Valid's expertise with both diesel generators and lithium-ion battery packs led them to merge the technology in an efficient Hybrid Power System.
The VPS 100kWh Battery Pack powers loads up to 30kW while energy remains in its batteries. Once the batteries become depleted, or the load becomes greater than 30kW, the battery system will start the generator and seamlessly switch the output over to the T4 generator. The T4 generator will supply power to the load and at the same time charge the battery. Once the load approaches the generator limit, the battery generator will switch from charging the battery to supplying power coupled with the T4 generator. In cases where the location requirement exceeds 100 kW, the battery will seamlessly couple its output with the generator, providing up to 130kW of power.
We have also developed the battery generator such that up to four units can be connected in series to supply up to 120kW of power with 400kWh or capacity. The system can provide up to 144kW of total power with the right combination of battery and diesel generators. A single diesel generator can be used to charge all four units simultaneously.
Putting this information into perspective, the three load case images below show how a hybrid generator works and what load scenarios the generators typically see.
Great things to come
Valid will continue to push the boundaries of innovation in power generation and distribution, listening to the needs of the industry and working with end users to ensure on-site functionality for all VPS products. Valid's 100kWh Battery Pack was successfully used power catering and actor trailers on a Netflix production in Vancouver. Valid's Tier 3 VPS Studio Generator and 100kWh Battery Pack has been successfully used as a Hybrid System. The film industry is excited to utilize this technology from an environmental and savings standpoint but still has concerns for
the practicality of the units. Valid believes range anxiety from adopting this new technology will disappear and sustainable products like theirs will soon become the industry standard.
Savings Comparisons found from Remote Monitoring System
Valid's Viability in Film Case Study