Purchasing a New Tarp
Downtime for chip truck drivers can be very costly, leading to work interruptions, delayed deliveries, offset supply chains or worse. Utilizing a high-quality truck tarp, one that is resistant to damage and everyday wear and tear, can minimize these potential costs.
The decision to purchase a new truck tarp may be easy, but choosing a tarp can be difficult. It's important to have a tarp that suits the specific needs of your trailer and the loads you are carrying.
So how do you choose the right tarp?
A simple measure of a tarp's quality and durability is to check its weight and thickness. The weight of a tarp is usually listed in ounces (weight per square yard) and its thickness is usually measured in mils (1/1000th of an inch). Generally, the heavier and thicker the tarp, the higher its quality and durability. Weight and thickness are not the only qualities that should factor into your tarping choice. Type of material, rot and abrasion resistance, construction, and expected environmental conditions all need to be considered in your search.
We knew that the tarp we chose for our AutoTarp System needed to be of the highest quality to stand up to the rigorous demands of transporting bulk wood chips in challenging weather conditions. After assessing all the available options, we came to the decision that vinyl's superior performance across the board made it the ideal material for our application.
Materials
So which tarp material is best? The answer to that question lies partly in the purpose of the tarp. Specialty tarps are available for a variety of applications, from transporting living things such as bees or livestock, to transporting bulk materials, such as steel, or, as in Valid's case, wood chips. Other important factors to consider include the tarping mechanism being used and the weather conditions the tarp needs to withstand.
Canvas, heavy-duty polyethylene (poly), and vinyl are among the most popular tarp material choices. For our AutoTarp System, we examined the performance of all three materials over a range of criteria, as shown in the table below:
| | | | | |
| --- | --- | --- | --- | --- |
| Material | Waterproof | Rot Resistance | Durability | Weather Performance |
| Canvas | Low | Low | Med | Low |
| Polyethelene | High | High | Med | Med |
| Vinyl | High | High | High | High |
Criteria
Waterproof and rot resistance
If you require a waterproof tarp, then vinyl is the best option, as this material remains 100% waterproof throughout the tarp's lifespan. The waterproof quality of vinyl means that it is also resistant to rot and mildew damage. Rips or tears in vinyl can be repaired using a special bonding glue that will restore the vinyl to its 100% waterproof status.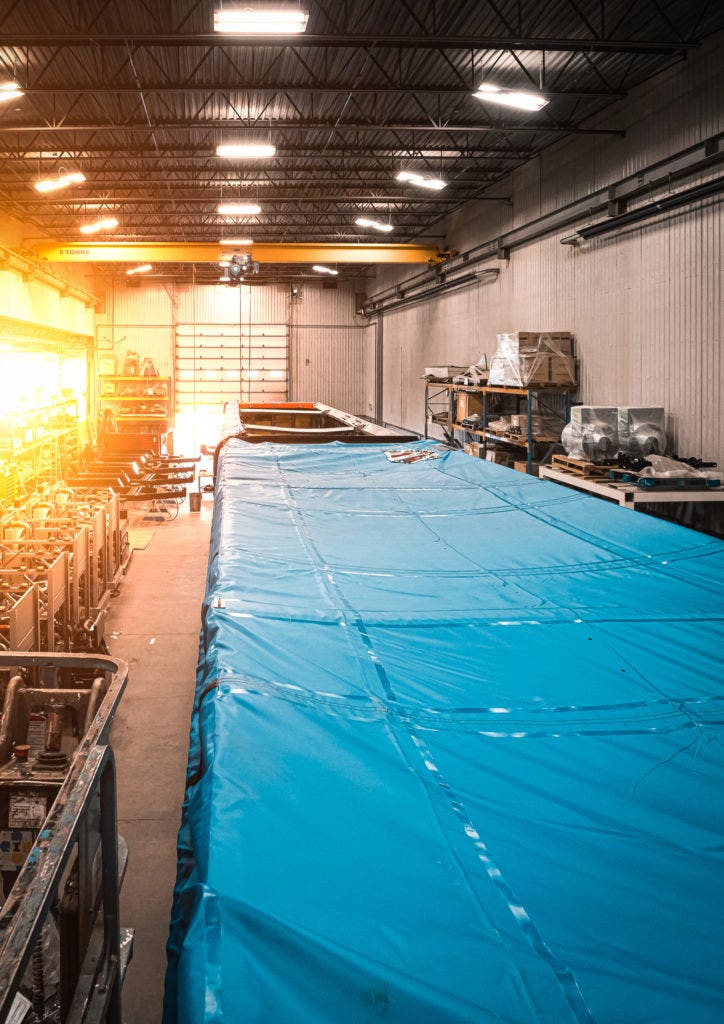 Durability and abrasion damage
Even though all tarps will see wear and tear eventually, the use of high-quality materials will extend a tarp's lifespan. Vinyl's weight and thickness make it the most durable tarp material available. Multiple coats of PVC vinyl can also be added over the scrim base of the tarp. These multiple layers create a sturdy, well-structured material that protects against the tarp cracking from wind whip damage.

Construction method
Just as important as the tarp material is the construction method of the tarp. Inferior-quality tarps are stitched together, which creates weak points throughout the tarp. These weak points have a much higher chance of tearing during use, especially if they are used on vehicles that travel at highway speeds.
Vinyl is a strong, dense material made from polyethylene terephthalate (PET), and reinforced PVC laminate. Vinyl tarps have limited stitching, which ensures there are few, if any, weak points. Seams are fusion-welded together, and any patching repairs are done with a bonding glue that permanently fuses the patch to the tarp. These quality construction techniques used for vinyl tarps enhance their longevity.
Ability to withstand weather conditions
Knowing the environment and weather conditions that your tarp must endure should factor into your decision on the type of tarp material to choose. Some tarp materials are more resistant to weather extremes, such as excessive heat or below-freezing temperatures, and these materials will be more reliable, day in and day out, on the job.
Vinyl tarps perform very well in almost all weather conditions. Having a flexible and pliable material is important to have when operating in cold weather— which vinyl is able to provide. The thick, sturdy material has reinforced coating and multiple layers of heat-sealed seams, making it substantially more tear-resistant than the alternatives. As mentioned earlier, the wind whip-resistant feature also adds to vinyl's weather resistance.
Replacement time
Given the wide variety of applications and conditions in which they can be used, it's difficult to determine the exact lifespan of any given tarp. Due to its durability, a vinyl tarp's lifespan can be up to 10 years, even factoring in severe weather conditions.
For tips on ways to extend the lifespan of your tarp, check out this article.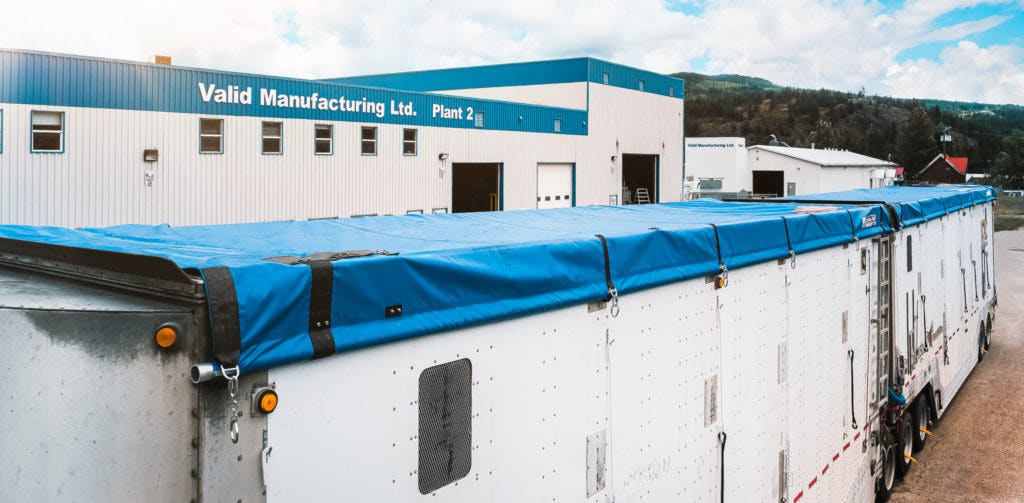 Choosing a Truck Tarp
We knew that our AutoTarp System required a strong tarp that was 100% waterproof, extremely durable, and reliable in all weather conditions. After we finished our research, vinyl emerged as the clear winner.
Shelter-Rite vinyl
Once we had decided to use vinyl for our AutoTarp System, we completed rigorous side-by-side testing of Shelter-Rite and other market vinyl. Shelter-Rite is a high-quality vinyl material with webbing, D-rings, and thread that is specifically designed to perform in the forestry industry. This material provides durable abrasion-resistant coating on both sides to increase wear resistance, and it has a lifespan of up to 7 years. (Learn more about Shelter-Rite vinyl here.) It became obvious to us that Shelter-Rite vinyl was the best fit for our AutoTarp System.
Tarp Suppliers
During the development of our AutoTarp System, we searched for local firms who were willing to dive into tarp automation with us, and both Bushpro and Central Tarp from Vernon, BC, stepped up. Both companies were instrumental in designing and developing the tarps for our AutoTarp System.

Central Tarp
Central Tarp has decades of industry experience, and they have worked with all the major fleets across Canada, providing effective solutions to the various challenges faced by trucking companies. Central Tarp's eagerness to assist in the development of tarp automation technology made them an ideal partner for the advancement of our AutoTarp System.

Bushpro
Bushpro is an Okanagan based company with lots of experience in many areas of the forestry industry. Their willingness to get involved with the development of our AutoTarp System accelerated the manufacturing process and provided insight into the forestry industry.
Conclusion
Purchasing a new truck tarp is a large financial commitment and one that deserves thorough research. Many factors must be considered, and the available tarp options need to assessed for suitability. The takeaway: investing in a high-quality tarp will reap benefits, both in terms of lower repair costs and less downtime, over the tarp's lifespan.