Falling from 3 meters in the air may not be a heavy concern for the average person, but for bulk wood chip trailer drivers, this concern is faced on a daily basis. Bulk wood chip or fibre hauling drivers encounter many obstacles, one of the largest being the constant fear of injury. The current manual tarping practices for the chip trailers is alarmingly unsafe; drivers encounter an overwhelming number of injuries on the job including shoulder injuries, slip and fall risks and muscle fatigue, putting drivers out of work at no small cost.
Many different tarping systems have been designed as solutions to these safety concerns; the struggle is finding an automated tarping system that can withstand the many challenges the forestry industry is up against.
Transition to Automation
Transitioning from manual tarping to an automatic tarping system has many worthwhile benefits, the largest of which is a significant decrease in workplace injuries. Within the transport industry the majority of injuries due to falling occur in the bulk transport sector, specifically during tarping a wood chip trailer. Given these risk factors, it's no surprise the industry is looking to automation to solve these challenges.
Safety concerns
Manual wood chip tarping requires drivers to climb a ladder, stand in an area with a high risk of falling, roll heavy tarps by hand, throw a weighted rope over each trailer, pull the heavy tarps back over a loaded trailer and reach above their heads to retrieve the chains and bungees. All together– a recipe for driver injuries, leading to time off work.

In a 2017 survey conducted by the Bulk Haulers Injury Elimination Task Force – now known as the Wood Fibre Hauling Safety Group– it was found that an average of 60% of injuries occurring to bulk hauling truck drivers happen during the tarping stage of the process. The transition to automated systems brings a significant decrease to workplace injuries during this stage.
High costs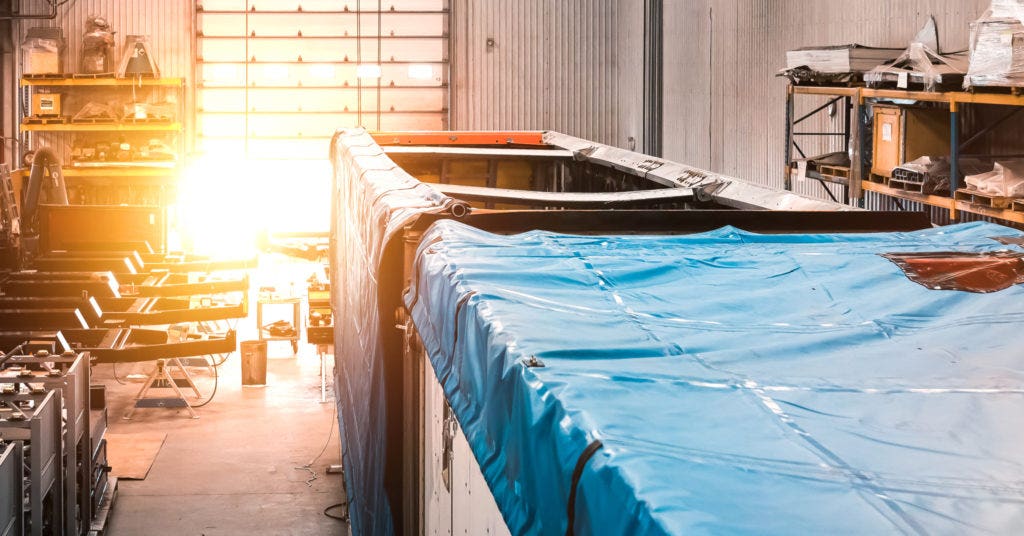 Tarping injuries impact more than the drivers themselves; they also impact the employers as they are met with expensive claims, drivers that require time off and a shortage of employees due to unsafe working conditions. According to statistics from WorkSafeBC the costs associated with tarping-related injuries totals over $1.7 million annually.
Automation is the answer
As companies are putting a higher focus on providing a safe work environment for their employees, the push for new tarping systems and processes have become increasingly important; Automated tarping systems are seen as the solution. These systems allow the drivers to remain safe and on the ground during the wood chip trailer tarping process, eliminating the fall risks previously associated with the job. Automation is helping to cut down costs, combat bulk hauling labour shortages and provide a safe work environment for employees.
Automated Tarping Challenges
It's clear why the forestry industry is moving in a direction to adopt automated tarping systems as the standard in the near future, however there are certain factors that are preventing immediate system adoption.
Weather
Bulk wood chip hauling trailers are required to operate in a variety of extreme weather conditions that the tarping systems need to be equipped for. These conditions include harsh winds and freezing temperatures. All potential solutions must have the capability to operate in all conditions without fail in order to be a suitable option for bulk hauling chip drivers to implement.
Reliability
Reliability is the critical underlying factor for these systems. Significant amounts of testing are required to ensure the automated systems are equipped to withstand all the challenges the forestry industry is faced with. An unreliable system will only add to the existing problems.
Valid's AutoTarp System
With the goal of keeping driving safe and on the ground while providing a reliable solution to outdated tarping practices, we designed the AutoTarp.
The AutoTarp has been in operation for almost a full year and is currently being used by two companies who have both reported positive results and favourable benefits. In an effort to ensure system reliability, the AutoTarp has been tested in extreme weather conditions such as snow, cold, high winds and slush and has proven the ability to withstand each of these elements.
For increased accessibility the AutoTarp system can be retrofitted to a variety of trailers, including Tycrop and Titan, and integrates easily with standard rigging equipment. As industry regulations change and new standards are adopted, we are excited to provide a safe, reliable solution to companies upgrading their wood chip trailer tarping practices to keep their drivers safe.

For more information on the AutoTarp system, view our product brochure or watch our instructional video: