Where It All Started
Valid was founded in 1991 by Gerald Clancy. The company initially found success as an electrical integrator and metal fabricator, and quickly established strong relationships building electrical enclosures. Built upon core values like strong leadership, social responsibility and innovative technology, Valid soon became known for suppling quality products and unparalleled customer service.
Where We Are Now
Over the past 30 years, Valid Manufacturing has grown and we have expanded the scope of our business. Our scope now includes products in the film, agriculture and forestry industries. We have also achieved strong growth in the vehicle sector. Our reputation for innovation, paired with our commitment to research and development, has led to strategic partnerships across the globe. This has also allowed us to attract talented individuals to join our team. We partner with other great companies to collectively create meaningful products and innovative solutions.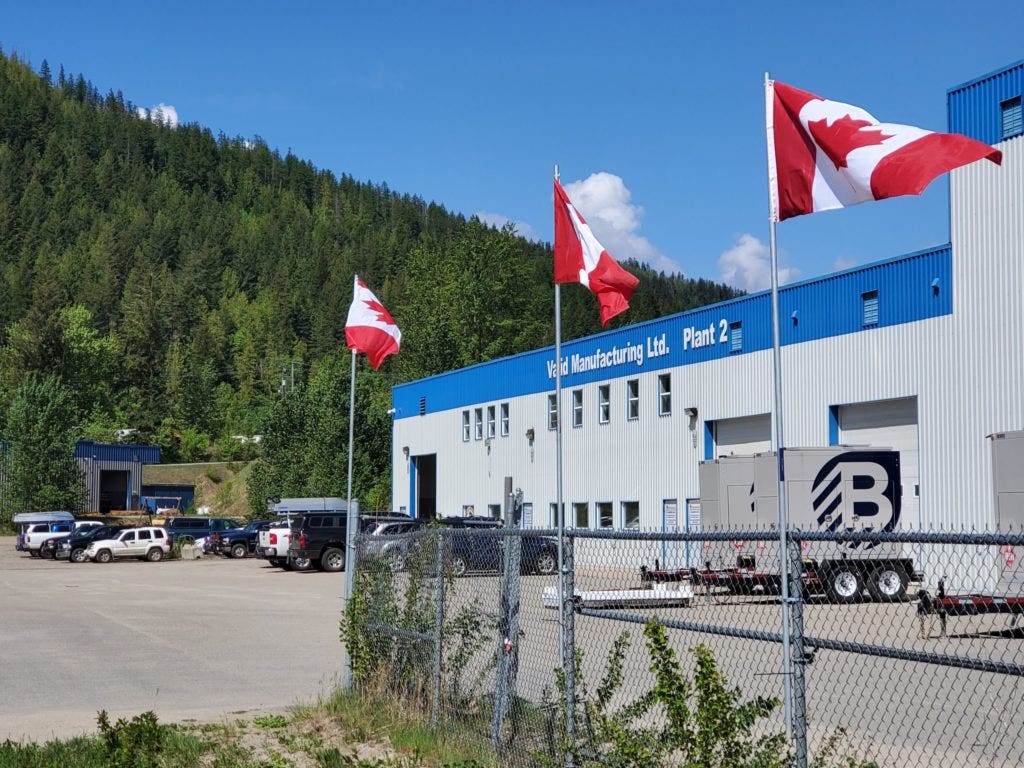 Community Involvement
Giving back to the community that has supported us through the years has always been a focus for Valid. We are proud to have been involved with a number of local events and organizations including:
Literacy Alliance of The Shuswap Society (LASS)
LASS is a charity that advocates for literacy in the North Okanagan-Shuswap area. They offer educational programs for all ages that elevate the quality of life for individuals, and strengthen the community.
Rotary
Our relationship with the Salmon Arm Rotary Club spans over many years. Most recently, we sponsored their Rent-A-Flag program. This program is dedicated to raising funds for the Shuswap Food Action Society for their Shuswap School Box program by renting Canadian flags. Funds raised from this program go towards providing fresh food for local families in need. Valid is a strong supporter of the outstanding work done by the Rotary Club, and we are honoured to be invited to share a bit about Valid with the community.
Pride Project
We are thrilled to be sponsoring the 2021 Salmon Arm Pride Project Festival. The Pride Project strives to involve the community in progressing acceptance and awareness, and increasing visibility for LGBTQ2S+ people. They help create opportunities for members of the LGBTQ2S+ community to share artwork, products and life experiences.
Innovation in Salmon Arm
We are proud to be part of the amazing community of Salmon Arm and look forward to furthering our connections and involvement. The video below showcases the incredible innovation in our community and the support available for it to continue. Salmon Arm – Small City, Big Ideas!
Commitment to Quality
Valid prides itself on an unwavering commitment to quality. Every product designed and manufactured here undergoes a rigorous testing process to ensure the highest possible quality.
ISO certification
Our commitment to quality has led Valid to become ISO certified. ISO 9001:2015 is an international standard that showcases a company's dedication to quality management systems which recognizes that customer satisfaction is the core of a business. This formalized commitment gives our customers confidence in our abilities and ensures consistent satisfaction in our products.
Mission statement
"Our commitment is to the continued growth and success of Valid Manufacturing Ltd. We will do this by providing superior products and services and by building mutually profitable and beneficial, long term relationships with our customers and our employees." At Valid we truly believe in quality over everything and this belief extends beyond the product line to our leadership, employees, relationships and life.
The Future
The Valid team has grown to almost 200 employees and expanded across 4 modern production facilities spanning over 100,000 ft2. Our future plans include continued growth to cement our reputation as a global leader in manufacturing in our chosen markets.
We look forward to our future as we tackle upcoming challenges in new and existing industries and provide innovative solutions for our customers.
Why Work at Valid?
Valid offers a comfortable environment equipped with a team of skilled individuals who will recognize you for your knowledge, skill, enthusiasm, and passion for your role in the organization. We offer a competitive salary, benefits, pension plan and support for your personal and professional development. Salmon Arm is a centrally-located, affordable community with year-round activities for all ages.
Work Life Balance
Reflective of the community we work in, Valid recognizes that work-life balance is important. We are committed to ensuring that we are a company that our employees look forward to growing and developing their career with.
Staff Testimonials
Don't just take it from us! See what our staff have to say about working at Valid:
"I'm excited to be involved with the innovative projects that Valid is continually tackling!"
"I really appreciate the work-life balance that Valid provides for their employees."
"I enjoy the freedom to solve problems in a supportive environment surrounded by friendly people and great leadership."
"I love the challenges brought by Valid's diverse and innovative product lines, the work is very rewarding."
Career Opportunities
Want to learn more about where a career at Valid can take you? Check out our careers page, apply now and join our team!